Honeywell & Aprilaire help you take total control of the comfort of your home!
---

---
The air inside your home is essential for more than just comfort—it's essential for life. It impacts your family's health and budget. That's why it's reassuring to know that with an indoor air quality system, you can be in complete control of your indoor air.
Our professional team has decades of experience installing and servicing all types of indoor air quality systems including UV air purifiers, dehumidifiers and air cleaners's. We take pride in educating our clients on the various forms of air quality systems so they can make the appropriate choice for their home.
---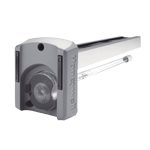 24V UV Air Purifier
A whole-house UV air purifier that removes odors, allergens and more
With today's airtight homes, odors from cooking and pets, as well as potentially harmful viruses and bacteria are trapped inside. Our New 24V UV Air Purifier with AirBRIGHT™ Odor Absorption works in your home's ductwork to remove airborne particles such as pollen and dust, as well as odors from food and pets. The air purifier's ultraviolet light addresses contaminants such as the surface mold on your air conditioning coils. With this one air purifier, you can improve the air quality and breathe easier throughout your house.
Removes potentially harmful viruses and bacteria, as well as odors from cooking or pets
Helps improve overall air quality, comfort and HVAC efficiency in your home
For both coil and air treatment
Professional installation
Five-year warranty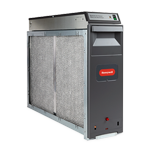 Electronic Air Cleaner
An air cleaner that's low cost and low maintenance
Need an affordable solution for air cleaning? Look no further than our F300 Electronic Air Cleaner. This air cleaner works efficiently to capture up to 99% of airborne particles in your home and requires minimal maintenance while doing so. Simply remove the filter every 6-12 months, wash it and replace it. No replacement filters needed. Achieving cleaner air has never been easier.
3-stage filtration system
Captures up to 99% of airborne particles
Renewable and eco-friendly
No replacement filters needed
Honeywell offers an exclusive 10-year Clean Coil Guarantee
Five-year warranty
Professional installation
---

---
---

---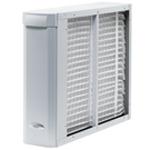 Space Media Filter
The Aprilaire Model 2210 Air Purifier is the best choice for homeowners who suffer from allergies.
Equipped with state-of-the-art filter media, the Model 2210 whole-home air purifier delivers exceptionally clean air throughout your home at an affordable price. Why suffer from airborne allergens, when you can remove them for good?
Traps 98% of pollen and mold spores
Permanently captures at least 97% of bacteria and fungi
Traps 96% of pet dander and respirable dust
Traps more than 75% of tobacco smoke and smog
Provides more than 10 times the filtering media used in standard 1" furnace filters
---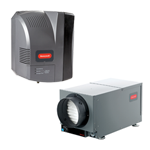 Humidifiers & Dehumidifiers
Other than temperature, nothing affects your comfort more than humidity. And there's a fairly narrow range between too much and too little. Honeywell puts indoor humidity control in your hands with whole-home humidification and dehumidification solutions.
Maintain Humidity Control for a Healthier, More Comfortable Home
When the humidity levels within your home aren't right, you notice it. It can lead to a host of problems.
Too Little Humidity
When you heat your home it dries out your air. The dry air absorbs moisture from you and everything inside your home.
Too Much Humidity
Day-to-day activities, such as breathing, cooking, and doing laundry, can add nearly 25 pounds of moisture to a home a day.