At Choice Heating & Air Conditioning we're dedicated to creating long-term relationships with our clients by providing top quality heat pump services. Specializing in heat pump system maintenance, repair, and installation, we have the training and expertise to provide you with first-rate, cost-effective work. And because we know how much you rely on your heat pump, we pledge to respond to your calls quickly and perform our service efficiently.
---

---
Whether your heat pump service needs are big or small, light-commercial or residential, you can count on Choice Heating & Air Conditioning for excellence in every project we undertake. We can take care of any heat pump maintenance, repair and installation. For more information or to get an estimate, contact us today.
---

---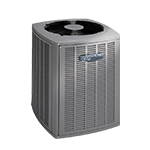 click the logo below to learn more

---

---
Choice Has Your Comfort Covered
We have the heat pump that can transform the way you heat and air condition your home. This single system can efficiently warm up and cool down your home on days that do not require the high power of a traditional furnace or air conditioner. With SEER ratings up to 19 and HSPF ratings up to 9.7, these units consume electricity responsibly while providing superior comfort and quiet operation.