Enjoy sophisticated system management, unprecedented control and exceptional energy savings with a Comfort Sync thermostat. It's the best way to get the most out of every part of your Armstrong Air system.
---

---
Remote Access Extends Control to Anywhere
The Comfort Sync thermostat puts advanced temperature monitoring and adjustment in your hands, no matter where you may be. Check and change the temperature in your home or set your system into an energy-saving Away Mode using your smartphone, tablet, laptop or other web-enabled device. So you'll always come home to the perfect temperature.
---

---
Enjoy Faster, More Responsive Service
Another incredible feature gives Comfort Sync the ability to email you and your dealer when routine maintenance or service needs to be performed. This gives you the added peace of mind that your system will be operating precisely as soon as possible. Each service alert and reminder is customizable for various time increments, depending on system requirements, so you remain in control.
Tailored Performance for Every Room
Comfort Sync Zoning divides your house into two, three or four different areas, or "zones," and redirects heating and cooling to those zones as needed. So you can keep temperatures right where you want them, without wasting energy on little-used areas.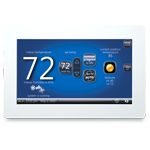 click the logo below to learn more

---
One Touch Away Mode
Puts your system into an enhanced energy-saving mode when you leave.
Weather Data
Using its connection to your wireless network, Comfort Sync can display a five-day forecast and live weather alerts.
---

---
Simple Scheduling
Helps you save energy with easy, intuitive heating and cooling schedules created around your lifestyle.
Touchscreen Operation
The bright, high-definition touchscreen uses simple menus and icons to make even complex operations incredibly easy.